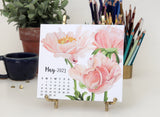 2023 Luxe Calendar Set, On Sale
15.50 23.99
It's Kelly Kay's 2023 Luxe Calendar! 12 pages, 1 for each month of 2023 + your choice of pages only or stylish easel. Each design is photographed from an original oil pastel drawing by Kelly Kay. 
You choose: Gift Box or No Box for the Pages Only option. "Gift Box" is a white box + label & ribbon. "No box" is simply your calendar pages in protective plastic. 
Pages measure 6" wide & 5.375" tall. Easels include 7" solid brass, 6" wood and *NEW THIS YEAR: sleek, modern 3" acrylic easel. See drop down menu to choose your favorite look.
The purpose of this company is to bring joy and beauty into your life and your home. This calendar is a piece of artwork for you to enjoy all year. Friends, I hope you love it!