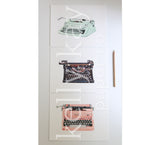 Art Print | Typewriter Set/3
69.99
CHANDELIER TRIO: Set of 3 Art Prints (8x10" or 11x14") created from an original oil pastel drawing by Kelly Kay. 
Acid free cotton base white paper with a rich velvet texture.  Pigment based archival ink for vivid color & longevity.
Includes: THREE art prints, 8x10" OR 11x14" in size. Ships flat from Fort Worth, Texas.
ADDITIONAL OPTION: HAND-FINISHING ... You may choose to have your art print hand finished by the artist ($100). Hand finishing means the artist will draw on top of the art print using oil pastels and colored pencils to add texture and depth of color that gives your art the look of an original. See product images for a closer look.