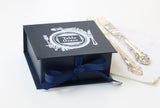 Table Grace Cards - New Look!
44.50 41.50
We are so excited to offer this stunning set of 16 (2-sided) Kelly Kay Table Grace Cards: a fresh take inspired by a vintage set of such cards passed down from my great grandmother; read by our family before every meal at my grandparent's house. We hope you will bring this beloved tradition to your family. Enclosed in a navy ribbon-tie box with white Table Grace label design, the story of the cards is included inside. Since our first printing, 11 of the 16 cards have been updated to include newer artwork. 
*Personalization cost is $20 per box. Please choose "+ Personalization" from the drop down menu and type the name you want printed in the order notes at checkout.*
16 cards are printed on 110-pound cotton textured stock and folded in half to create 31 different prayers, one for each day of the month (plus cover card). Each card (folded) is 3 3/8" x 3 3/8" and the box is approximately 4x4". 
All artwork is original, hand drawn, scanned and press printed on cotton textured paper in the USA. The prayers are a collection of classic hymn lyrics, common table prayers, poems & Bible verses. Authors include John Cennick, W.D. Longstaff, Robert H. Baynes, Bob O. Bower, K. Vidrine and David. All prayers are public domain or are used with permission.
Art & Design is copyrighted by Kelly Kay Creative, Inc. and may not be copied without permission.