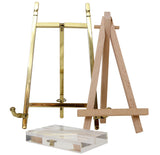 Calendar Easels Only
4.00
If you want an easel PLUS a calendar in a box, find the 2023 Luxe Calendar listing. This listing is for the easel only; no packaging included. 
Wood Easel: $4 each; Acrylic Easel: $7 each; Brass Easel: $29 each.
The acrylic easel is NEW this year and so sleek & pretty! 3" long.