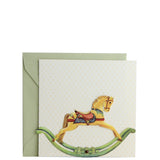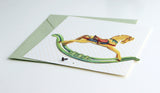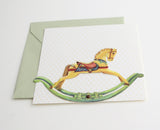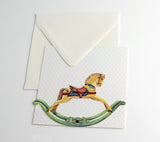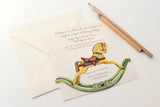 Fancy Invitation | Rocking Horse
25.99
Set of 10 Kelly Kay Rocking Horse Die Cut Invitations + Sage *or* Ivory Square Envelopes. This sweet rocking horse really rocks back and forth, thanks to a brad placed in center. Print your event details before you attach the horse with included brad.
One set includes 10 Rocking Horse Die Cuts, 10 printable pieces (5.25" wide x 5.25" tall), 10 copper mini-brads & 10 envelopes. *Please make sure your printer can print on a 5.25 x 5.25" card size.*
All original artwork is hand drawn, scanned and press printed on cotton textured paper in the USA. Small Square envelopes are 5.75" x 5.75". Choose envelope color above.
**Extra postage may be required (a square envelope usually requires two stamps instead of 1).**
Please note that invitations are sold without wording; at this time, we do not offer printing of your event details.