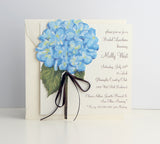 Fancy Invitation | Blue Hydrangea
25.99
Set of 10 Kelly Kay Blue Hydrangea Die Cut Invitations + Ivory Square Envelopes. A simple and stunning choice for any wedding event. Print your event details before you tie the hydrangea to the printable piece.
One set (quantity of 1) includes 10 Blue Hydrangea Die Cuts, 10 printable pieces (5.25" wide x 5.25" tall), 10 pre-cut pieces of brown satin ribbon (1/8" wide and 17" long) & 10 envelopes. *Please make sure your printer can print on a 5.25 x 5.25" card size.* Holes in printable piece are pre-punched for you.
**Print your invitation details** Lay out wording on your computer. Right justify for best results. Always print a test sheet first (cut it to match the size of the real printable piece), then print and lay the test sheet over the real printable piece. Place it in front of a lamp or a window so you can see where the text will print. Take care to notice which way the words orient; sometimes the printable piece needs to be rotated an odd direction in your printer to ensure the words layout correctly. Draw where the printable piece's holes are on your test piece. Run several tests to make sure it's right. Once you're satisfied with the placement, run the actual printable pieces through your printer.
To assemble, see photo to left. 1. Thread provided ribbon through pre-punched holes in printable piece; 2. place hydrangea bloom between ribbon pieces and tie once; 3. tie ribbon into a bow. Then cut off ends of ribbon at an angle with sharp scissors to finish the look. 
All original artwork is hand drawn, scanned and press printed on cotton textured paper in the USA. Small Square envelopes are 5.75" x 5.75". 
**Extra postage may be required (a square envelope usually requires two stamps instead of 1).**
**Please note that invitations are sold without wording; at this time, we do not offer printing of your event details.**